Hi again! I'm freshly back from our long summer vacation at Disney World…
… our worst Disney vacation ever.
So bad, we sought refuge in the Tiki Room. The TIKI ROOM, people! It doesn't get much worse.
(See that middle guy up top – with the drum? That's what I looked like for nine days.)
It was HOT. And CROWDED. And RAINY. And there was a whole lotta Magic missing.
Seriously- Worst. Disney trip. EVER.
I have many thoughts about what went wrong, what was within and outside of Disney's ability to control and how things could be vastly improved… but, frankly, I'm sick of wasting any more energy on such a crappy vacation. I just want to move on, y'know? Truth is, we're local, WDW is a cheap getaway, and I'm already invested thanks to DVC and annual passes; we'll go back and Mickey knows it.
Instead of griping about what went so spectacularly wrong, I want to share what went RIGHT – the couple of training runs I put in!
It's crazy, I know, but morning temps in central FL are more pleasant than at my home on Florida's Gulf coast. Still humid, but cooler and with some movement to the air. So, despite that fact that it was, indeed, a HOT trip, my morning runs were almost refreshing. If by "refreshing" one means temps in the mid-70s and 100% humidity. Trust V – that trumps high-80s and 100% humidity!
Run 1: short run at Saratoga Springs Resort
I went into this one with absolutely dead legs and feet that hurt from the start; speed was not going to happen. I decided I'd settle for 35 minutes of whatever type of forward motion I could muster and set out just after sunrise, around 6:40am.
I'd gotten a jogging map from the front desk, but didn't need it; I know my way around pretty well at this point and I was just planning to run loops until I hit my time goal.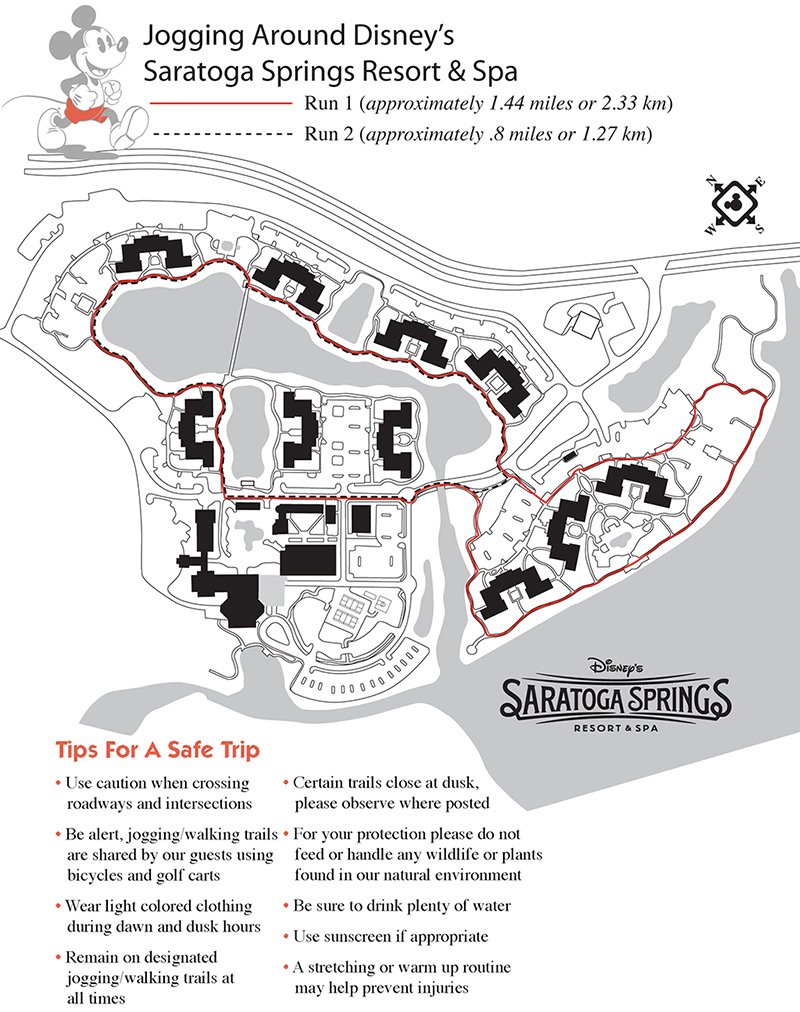 Our room was in the Grandstand section of Saratoga Springs Resort (SSR), so I walked a bit from there and then took a loop through the Treehouse Villas, thinking it would make for a shaded and scenic first mile or so. Meh. It is shaded, but not so scenic; mostly road and tall pine trees. No sidewalks and a fairly narrow roadway, so I paid close attention to buses coming and going.
Leaving the Treehouses behind, I ran back past the Grandstand and over to the Springs, which houses the main pool, restaurants, golf shop, front desk, spa and DVC preview center. There were a few sleepy folks there getting coffee and the maintenance team was setting up the pool deck, but I had plenty of room to run at that early hour.
Crossing back behind the Springs, I looped around Congress Park, which features a lovely view across the water of Downtown Disney.
From there, I crossed the main street and made a partial loop through the Paddock. I really liked that section – plenty of shade, a nice breeze off the lake and these super-cute markers that measure distance in furlongs!
I made it through 35 minutes, 11 seconds for a total distance of 2.75 miles. Yeah, that's a 12:48 average pace. Bleh. But I was happy to have gotten it done. I was happy right up until I faced the first set of stairs at Typhoon Lagoon an hour or so later. I do not recommend a water park after running. Trust V.
Run 2: 6 miles through SSR and Downtown Disney
My training plan called for 6 miles at the tail end of my vacation. I considered saving it for when I got home, but I was tense and irritated from the aforementioned issues at WDW and thought a good, long run was just what I needed. I was right.
This time, I ran my SSR loop in reverse, partially looping the Grandstand, up to the Springs, over around the Paddock and Willow Lake, and down the lake side of Congress Park. From there, I continued on the path instead of circling back and landed at the far end of Downtown Disney's Marketplace. As I neared the Marketplace, I heard my iSmoothRun app's voice tell me I'd hit 2 miles. I planned to do my Galloway Magic Mile in mile 3, so I focused on that instead of pausing for pictures as I continued down through the Marketplace, Pleasure Island and into Downtown Disney's Westside. Sorry.
FYI - Downtown Disney? Hilly. I feel pretty sure there are no natural hills there, but Disney placed all sorts of ups and downs, including one torturous climb up to Pleasure Island, in the landscape. Had I known this, I'd have done my Magic Mile elsewhere. But once I'd committed, I pushed hard and produced a pace of 11:21 for mile 3. That's 11 seconds faster than my previous Magic Mile – but with hills! And on deaddeaddead Disney legs! Yeah, I'm pretty happy with that.
Wiped out, I finished the rest of my run at an easy pace, reversing my course back through Congress Park and the Paddock, around the Grandstand, through a partial loop of the Treehouse Villas, and back to the Grandstand, where I filled a laundry bag with ice and gave my legs a good cool down in an ice bath.
In the end, I cut the run to 5.56 miles in 1:10:04. Add in my warm-up and cool-down walks, not to mention the couple miles walked later in the day, and I'm totally fine with five and a half instead of six.
We moved to Port Orleans Riverside (POR) that morning, which was, admittedly a little rough – hauling luggage up and down stairs after running was not fun. But then I crashed at the POR pool for a few hours, which I HIGHLY recommend! Getting off my feet in a lounge chair or floating weightlessly in the cool pool water made for a great recovery. I was tired that night, but woke the next day feeling up to tackling Blizzard Beach and its many, many stairs.
I had a third run planned for our final morning at POR, but I bailed on it. We stayed out late the night before and sometimes sleep trumps a run; that was one of those times.
But… we're still planning to go back to POR over July 4th. And I've got a short run planned while there. So you can bet I'll be back with another Disney running route review!