Wow – it's been an interesting few weeks. With only four weeks until the runDisney Tower of Terror 10-Miler, I'm looking at two more long runs of 10 and 11 miles… and hoping I can manage even half of that.
That's because I've been beset by the dreaded IT Band Syndrome. Apparently, months of running ever-increasing long runs on Florida's steeply angled roadways/sidewalks/paths are partly to blame. Add to that my wonky gait thanks to scoliosis and it seems my body never gets a chance to run in any way that's level and balanced. Whatever. All I know is that for the past month and a half, it feels like someone's taken an ax to the outside of my left knee at mile 7. I limped through my last long run to reach that magic double-digit 10, but the last few miles were pretty bad. And that's not even counting the monsoon in which I ran the final mile! That actually felt good, comparatively.
So now I'm only running until the pain starts, and then stopping, regardless of how far that is. Last weekend, I only made it 3 miles. I stuck with the treadmill earlier this week and did 2.5 miles pain-free, and went outdoors for a slow-paced run with Leo the other day – 2.5 again with no pain. I'm hopeful, but not optimistic, about my chances for pulling a full 10 miles this weekend.
Meanwhile, there are some bright spots in my running life…
For one thing, Leos' running with me again! He took the summer off because, well… because it's HOT and HUMID down here and who actually wants to run in that?! I've had to, since I signed up for a race at the end of stupid September, but Leo didn't. But we're signed up to run a 5K in November, so he's doing a short run or two with me each week again. I missed him! It's nice to have him along for the ride again. :)
I'm also trying out a pair of Newton running shoes.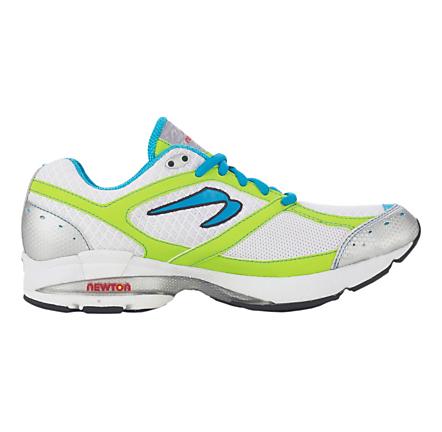 I'm naturally a mid-foot striker and Newtons are specifically designed to work with a mid-foot strike. They aren't cheap, but I was able to get a pair of Lady Isaac S on sale, so I thought I'd give them a try. So far, I really like them! They feel a little funny when walking, thanks to the nubs set into the sole of the forefoot, so I'm not sure how useful they'll be to me on long runs, given my run-walk-run approach. But when I'm running? Ooooooo, they're so good! Lightweight and springy, I swear Newtons make me lope like a gazelle rather than plod like an elephant. My only gripes are that the heels aren't as snug as I like, given my freakishly narrow ankles and previous Achilles injury, and that the reduced cushioning of Newton's design seems to leave my feet achy for a few days. But I can address the heels by wearing thick socks and, from what I've read, my feet should gain strength and become less achy as time goes on. I'm following Newton's advice to transition slowly, especially as I have a race coming up; I'm only doing a short run each week in the Newtons for now. But I'm looking forward to giving them more bonding time, come October, and will report back with a full review.